24/7 Emergency Flood Restoration from Carpet Pro of Volusia
Flooding is very distressing and that is why we offer a 24 hour 7 day service and this is the time you need our professional services most.
Causes of flooding can be anything from faulty plumbing or a broken appliance,to a severe storm causing water to be pushed into our homes or businesses. 
The sooner you call us the quicker we can help you get everything back to normal. In addition to extracting water and drying carpets and flooring we can also offer to help repair water damage to other items.
Our services include structural drying and this means that we dry the walls and frame of the house as well as the contents. Special equipment is brought in specifically for this. 
Finally we are more than happy to deal directly with the clients' Insurance Company over the restitution of the property to its pre-damaged state. 
Commercial Carpet Cleaning
Put our advanced carpet and upholstery cleaning expertise to work for your company.  We can speedily get your company up and running again after a storm or flooding water.  With 24 hour emergency water services, flexible scheduling and our extensive service capabilities we can help to get your business on track again.  Give us a call on any of the numbers to the right. 
Over 30 Years Experience Cleaning And Deodorizing A Variety Of Commercial Carpets
Whether your flooding problem is in a restaurant, hotel, apartment building, office building, a school, hospital or indeed any other kind of building Carpet Pro has the experience, expertise and professionalism that you need.
Call today to find out about corporate accounts for your business.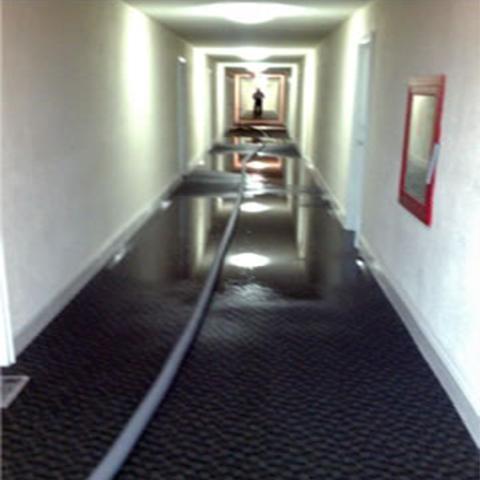 Water Extraction Service from Carpet Pro of Volusia. Every minute counts.
Water Restoration
We are a professional indoor water restoration company that is focused on maintaining professional results and we offer the latest technology to dry structures faster and more efficiently. We are committed to providing the best results to all of our customers in their time of need.
Water Damage Restoration
Ask anyone who has suffered the overwhelming experience of being ankle deep in water and they will tell you how distressing and anxious a time it is.  Don't panic we are here to help and quickly too. Every minute counts in this sort of situation so the sooner you call, the less damage there will be.
We Have The Experience.
Since 1986, Carpet Pro has been helping Volusia County residents. We are available round the clock and can respond to your call at any time. Prompt action by experienced restorers makes a difference in mitigating damage to your property. The key to restoring carpets and upholstery is to eliminate the moisture immediately! We have the know-how and state of the art equipment. Don't hesitate to call us.
Whether it is a leak or a major flood that has caused the damage, our specialist technicians are able to respond quickly, effectively and appropriately!