Carpet Cleaning
Carpet Pro of Volusia - Carpet and Upholstery Cleaning
We thought it might be helpful in this section to share with you some general information on the care of your carpets and upholstery.
Carpets
A carpet's durability is affected by some of the following.
Indoor environment
Outside elements
What maintenance programs are in place
Fiber content
Even the professionalism of the installation
The indoor environment has an effect on the carpet in different ways.
The number of tenants, employees and family members, the type of synthetic light used, air circulation, a frequent maintenance program and much more. You can see the difference our professional cleaning can make from this picture.
The single most important thing you can do is vacuum thoroughly and carefully. Every time you step on the carpet you grind dirt into the fibers. Dirt is abrasive, like sandpaper, it causes carpets to wear out faster. Proper cleaning is the best way to extend the life of your carpet. There are both do-it-yourself methods and a variety of professional systems for cleaning carpets. Each has its advantages and disadvantages. While do-it-yourself methods cost less, they will never be as thorough as professional systems. Established in 1986, Carpet Pro has many years of experience in cleaning and protecting your carpets in Volusia County. 
Secondly remember that the next important factor in good carpet care is to clean up stains as quickly as possible. The longer a stain sits there, the harder it is to remove.  However, make sure you use the right cleaning materials or you may make the situation worse.
Our Cleaning Products
We offer "state of the art" mobile van powered carpet steam cleaning.  Using quality EPA approved cleaning solutions that leave a dry brittle residue instead of a soapy one are important as these can be easily vacuumed up.  However, rest assured that we follow manufacturers' recommended maintenance guidelines. 
Upholstery Cleaning
Carpet Pro Of Volusia upholstery cleaning service uses the very best and latest upholstery cleaning equipment. 
Upholstery, just like carpets, needs to be vacuumed regularly and thoroughly.  If you would like your upholstery to look like new again give us a call.  We will take the time needed to clean every part of your furniture to remove as much dirt as possible.  We even clean leather!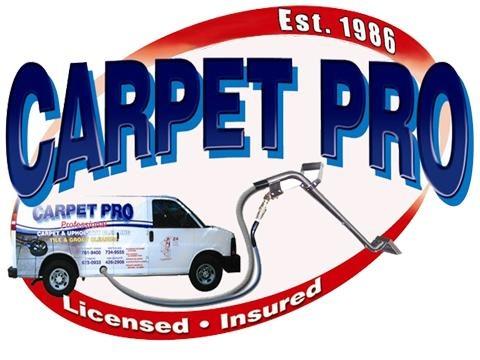 Carpet Cleaning - Upholstery Cleaning - Tile and Grout    Cleaning - Water Extraction - Drying - Emergency Service

To Schedule or Confirm an appointment
Daytona Beach




386 258 5224

Ormond Beach/




Holly Hill area




386 673 0933

Port Orange, South




Daytona, Ponce Inlet




386 761 9400

Deland, Deltona




386 734 9555

New Smyrna,




Edgewater




386 426 2906


 For after hours emergency follow any instruction on our answering service line. We will return your call usually within 10 - 15 minutes.
Carpet Pro Mission
Customer Satisfaction while delivering friendly service with exceptionally clean carpets, tile and rugs.
Carpet Pro Values
To give customers high quality carpet cleaning using the most innovative and environmentally friendly products for both home and pets.
Carpet Pro Solution
Engage with customer before, during and after your experience with Carpet Pro Of Volusia.
Carpet Pro of Volusia County Florida is an award winning carpet cleaning company.