Carpet Pro Professional Tile and Grout Cleaning
In our area there are a lot of homes that have durable hard surfaces such as ceramic, terracotta and quarry tiles or similar. Their use is now widespread in both commercial and private properties and now extends further than just bathrooms and kitchens. However, in time dirt and grime defaces the tiles and the absorbent grout becomes black. 
We clean tile and grout floors.
By using our specialized tools and equipment we can now clean these and make them look like new. Carpet Pro combines years of experience with only the best and safest products on the market today so you can be confident that you are getting the best solution and care for your tile and grout.
Hiring a Professional
With proper routine maintenance, your tile flooring will last a long time before needing professional cleaning again. Whether your grout needs new sealant due to age, or the grout was not properly sealed to begin with, Carpet Pro can both thoroughly clean your flooring as well as add new sealant to the grout. Upon any tile and grout cleaning estimate please ask to include a sealant.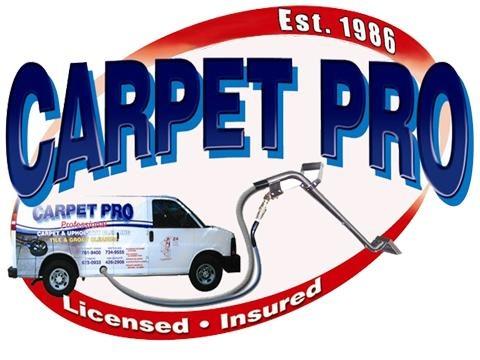 Carpet Cleaning - Upholstery Cleaning - Tile and Grout    Cleaning - Water Extraction - Drying - Emergency Service

To Schedule or Confirm an appointment
Daytona Beach




386 258 5224

Ormond Beach/




Holly Hill area




386 673 0933

Port Orange, South




Daytona, Ponce Inlet




386 761 9400

Deland, Deltona




386 734 9555

New Smyrna,




Edgewater




386 426 2906


 For after hours emergency follow any instruction on our answering service line. We will return your call usually within 10 - 15 minutes.
Carpet Pro Mission
Customer Satisfaction while delivering friendly service with exceptionally clean carpets, tile and rugs.
Carpet Pro Values
To give customers high quality carpet cleaning using the most innovative and environmentally friendly products for both home and pets.
Carpet Pro Solution
Engage with customer before, during and after your experience with Carpet Pro Of Volusia.
Carpet Pro of Volusia County Florida is an award winning carpet cleaning company.